"
THE NEXT SHOE – COMMERCIAL MORTGAGES
The bank sector is debating this topic now, complete with considerable denial and departures from reality (what the facts state). Inside reports speak of grand internal sandbag projects by big banks to brace for the coming storm expected. The delinquency rate for commercial mortgages has more than doubled since September to 1.8% this month, on $700 billion in securitized loans, according to Deutsche Bank. This market is usually highly stable. The current delinquency rate is just below the peak in 2004. Some experts anticipate the current commercial slump will exceed that seen in the early 1990s. Foresight Analytics of Oakland California estimates the US banking sector could suffer as much as $250 billion in commercial real estate losses in the current crisis. They project that over 700 banks could fail as a result of their exposure to commercial real estate. That is five times the charges on commercial real estate debt between 1990 and 1995. Deutsche Bank estimates the default rates on the $700 billion of commercial mortgage backed securities could reach 30%, and aggregate loss rates could reach 10%.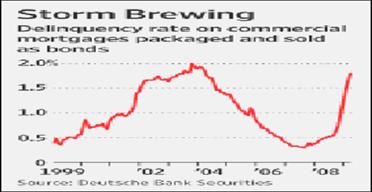 Besides securities backed by commercial real estate loans, about $524.5 billion of whole commercial mortgages held on portfolios by US banks and thrifts will come due between 2009 and 2012. Nearly 50% would not qualify for refinancing in today's credit environment, estimates Matthew Anderson at Foresight Analytics. Lenders generally reject loans over 65% of a commercial property value. General Growth was a victim today of inability to refinance and roll over their debt. They had strong fundamentals, but unfortunately bankers do not. More data and analysis is provided in the April Hat Trick Letter macro economic report just posted."
MUST READ ARTICLE:
http://www.marketoracle.co.uk/Article10074.html